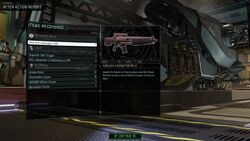 The Disruptor Rifle is the signature weapon of the Chosen Warlock in XCOM 2: War of the Chosen.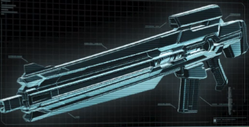 In Combat
[
]
The Warlock will only use the Disruptor Rifle in combat when he is unable to use any of his psionic abilities. It has the special feature of dealing guaranteed critical hits to any Psionic enemy it attacks, be it the Warlock attacking a Psi Operative or XCOM attacking units like the Codex and Sectoid (provided that the shot hits).
Upon recovery of this item, it comes with four Superior level weapon upgrades: a Scope, Expanded Magazine, Stock and Hair Trigger. These weapon upgrades are permanent and cannot be replaced. You will need to research for several days before you are able to use this weapon, and being an assault rifle type weapon, it can be equipped on Psi Operatives, Specialists, Rangers, and Rookie soldiers.