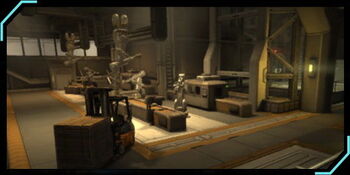 Engineering is one of the static facilities in the XCOM Headquarters. Engineering's primary function is the manufacture of newly researched equipment and vehicles for XCOM's use against the alien invaders. This facility is run by Dr. Raymond Shen.
Item Availability
[
]
Only Medikits and Satellites are initially available for manufacture in Engineering; all other items require the completion of either a Research Project or a Foundry Project before they become available for fabrication.
Costs and Discounts
[
]
All items manufactured in Engineering have a base cost consisting of § Credits and sometimes of Alien Alloys and Elerium. All manufactured items also require a minimum number of Engineers before they can be built. Acquiring Engineers in excess of the minimum provides a discount to these base costs; other resource costs (such as alien corpses, etc) will not be discounted. The rate of discount slows down as you have more and more Engineers and never exceeds 50%. The formula for the cost of a manufactured item is:
Final cost = round down [ base cost x 0.5 x (1+ (Engineers Required / Total Engineers) ) ]
Additional discounts that can affect the base cost of an item include the Continental bonuses for North America (50% discount to aircraft and aircraft weapons) and Asia (50% discount to S.H.I.V.s).
While not an up front discount, the adjacency bonus for Workshops provides a very nice +7% refund on the cost of items built via Engineering.
Manufacturing List
[
]
All costs listed should be base costs without any discounts.
Gallery
[
]