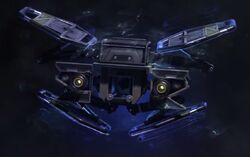 A GREMLIN is a highly specialized drone in XCOM 2 used by Specialists in place of a secondary weapon.
Specifications
[
]
Tactical Info
[
]
"

The GREMLIN Drone allows Specialists to execute a variety of battlefield tasks from safer distances.
The GREMLIN accompanies the Specialist, and can be issued protocols which aid allies, hack electronic targets, or damage enemies.
The GREMLIN usually goes unnoticed by enemies, and cannot take damage or be destroyed. It will shut down if its owner is incapacitated or killed.

"
Notes
[
]
There are reports, that a GREMLIN will trigger enemy groups after successfully completing an action within enemy detection range.
Chief Lily Shen can be seen in some cutscenes with her personal GREMLIN, affectionately nicknamed "ROV-R". ROV-R is later used by Shen and Dr. Richard Tygan in researching the Psionic Gate.
Attack Damage
[
]
Combat Protocol: 2-3 Organics, 4-6 Robotic
Capacitor Discharge: 3-6 Organics, 5-8 Robotic
Other GREMLIN
[
]
Gallery
[
]