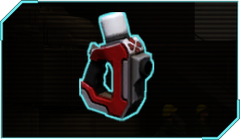 The Medikit is an item in XCOM: Enemy Unknown.
In-Game Description
Edit
"
Our field-deployable Medikit can temporarily treat a soldier's wounds through the use of nanosutures and high-potency stimulants.
"

– Engineering description, XCOM: Enemy Unknown
Production Specifications
Edit
Prerequisites: None
Production Time: Immediate
Production Cost:
Tactical Info
Edit
Uses per mission: 1
Can heal a wounded soldier within 1.5 tiles, restoring 4 HP and curing any poison status.
Can Stabilize a critically wounded ally, preventing them from bleeding out.
Holding a Medikit confers immunity to poison.
The Support Class can select a number of perks that further improve the Medikit's usefulness:
Healing by the numbers:
Basic: 4 HP
Improved Medikit upgrade: 6 HP
Basic with Savior perk: 8 HP
Upgrade with Savior perk: 10 HP
Upgrade with Savior perk on a unit with Defender's Medal bonus heal ability: 12 HP
In XCOM: Enemy Within it is possible for one Support unit to heal up to 48 HP (not including Arc Throwers with S.H.I.V. Repair).
(For reference: Soldiers with top tier armor have about 15-20 HP at the end of the game. Best Assault, at least Major rank, accomplished by Second Wave modifications, can have a max of 30 HP)
Community content is available under
CC-BY-SA
unless otherwise noted.