Missions represent XCOM ground combat operations and are the key tactical gameplay element in XCOM: Enemy Unknown. During missions the player directs a squad of soldiers in tense turn-based combat, exploring maps shrouded by the "fog of war" to engage the alien ground forces and locate objectives. Most missions are launched from Mission Control via the Geoscape with the exception of Council Missions which are launched from the Situation Room.
Mission Types
[
]
The following is a list of mission types in XCOM: Enemy Unknown.
Tutorial Missions
[
]
Randomized Missions
[
]
These missions appear randomly each month. Any of these missions can be skipped but doing so (or failing the mission) results in increased panic in the affected countries/continents.
Council Operations
[
]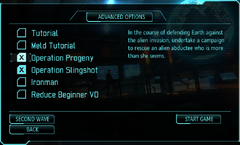 These are sets of three special story-driven Council missions involving uniquely-voiced characters (such as Shaojie Zhang or Annette Durand) who later join XCOM's roster among other mission rewards. Unlike other Council missions they are not randomized; they occur during a predetermined month, or at a fixed time after a particular event. They must be enabled in the advanced options menu prior to beginning the game.
Storyline Missions
[
]
The completion of these special missions is required in order to progress the storyline and finish the game. Failure to complete certain missions is considered a game loss, but an option to restart the mission is often available even with Ironman mode enabled.
The EXALT Base Raid ends Covert Operations for the remainder of the game, and can be undertaken at any time after collecting sufficient EXALT Intel. It is not essential and can be postponed indefinitely.
Mission Overview & Time Frame
[
]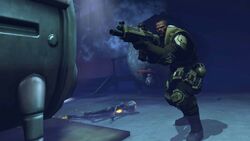 There are typically 4 or 5 missions available every month, except on Impossible where there are more frequent Alien Abduction missions. The down time between missions is randomized, some show up on back to back days while others can be a week or more apart. While the mission types during most months follow a randomized appearance order, the missions during the first month seem to follow a preset progression with randomly generated mission properties:
March 2015
Mission Name Prefix List
[
]
Banished
Black
Bleeding
Blind
Blinding
Bloody
Broken
Brutal
Burning
Cold
Crimson
Cryptic
Crystal
Dark
Defiant
Demon
Devil's
Driving
Dying
Empty
Enduring
Fading
Fallen
Final
First
Flying
Forgotten
Frozen
Glass
Hidden
Hot
Lazy
Lone
Lost
Morbid
Patient
Purple
Red
Rotting
Sacred
Secret
Severed
Shattered
Silent
Soaring
Spectral
Stone
Swift
Twisted
Unceasing
Vengeful
Mission Name Suffix List
[
]
Apollo
Bell
Blade
Breath
Calm
Crone
Crown
Daze
Dream
Druid
Empire
Engine
Fall
Father
Fear
Fog
Future
Grave
God
Hammer
Hawk
Hydra
Hymn
Jester
Justice
King
Line
Law
Moon
Mother
Mountain
Night
Palace
Paramour
Pipe
Priest
Prophet
Pyre
Rain
Ring
Savior
Scepter
Serpent
Shield
Shroud
Skull
Smoke
Stallion
Star
Stranger
Stroke
Summer
Sword
Tears
Thorn
Throne
Thunder
Vanguard
Vengeance
Whisper
Gallery
[
]