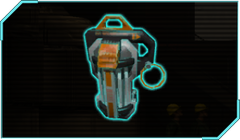 The Needle Grenade is a new explosive weapon that uses an item slot introduced in XCOM: Enemy Within.
In-Game Description
Edit
"
A variant on the Frag Grenade, this weapon does equivalent damage over a much larger area, but the projectiles cannot penetrate cover. Thus, units in cover relative to the center of the blast area will be unaffected.
"

– Engineering description, XCOM: Enemy Within
Description
Edit
A "needle" grenade is an anti-personnel fragmentation weapon that is designed to disperse shrapnel upon exploding, minimizing environmental collateral damage, while causing bodily harm to any unit within range.
Production Specifications
Edit
Prerequisites: Chryssalid Autopsy (Research)
Production Time: Immediate
Production Cost:
Tactical Info
Edit
Increased blast radius (5-tile radius) compared to standard frag grenade (2-tile radius)
Like frag grenade deals 3 base explosive damage to units in radius
Units in cover relative to center of blast radius will not take damage
Tactical advantages in using this grenade include:
Think carefully about producing these: Chryssalid corpses are rare and difficult to acquire, and also necessary for Chitin Plating.
Thankfully the Aiming AnglesEW Second Wave in option has no effect on this grenade, because it is an area of effect blast, and the fact that this is not a soldier.
This is how fragmentation grenades actually work, shredding the target with shrapnel rather than crushing it with a concussive blast wave.
The damage that the Needle Grenade inflicts is considerably lower than one might expect due to game balancing. In a real world scenario the rending caused by the grenade would almost certainly lead to internal bleeding, ruptured organs and likely a complete fatality when used on a 'soft' or unarmoured target: Sectoids, Thin Men, EXALT soldiers, etc.
Community content is available under
CC-BY-SA
unless otherwise noted.