For the enemy in The Bureau: XCOM Declassified, see Outsider (The Bureau: XCOM Declassified).
An Outsider is an alien in XCOM: Enemy Unknown.
Description
[
]
Outsiders are a type of alien construct that take the form of a synthetic humanoid, yet contain no organic matter; Dr. Vahlen describes the first one discovered as a "being of almost pure energy." Outsiders materialize out of glowing orange crystals and are only encountered inside crashed or landed alien UFOs. They are typically located in the core or the command room of the UFO and only appear when XCOM soldiers get close enough to spot their crystals. Originally believed to be dedicated guardians for the alien vessels, later research reveals that these Outsiders may actually be some kind of mobile long-range interstellar communication system.
A slain Outsider will disintegrate completely, leaving no corpse; on the other hand, stunning it with an Arc Thrower will leave behind its crystal core.
Abilities
[
]
| Ability | Description |
| --- | --- |
|   Suppression | Can fire a special shot that grants reaction fire at a single target. The target also suffers a -30 Aim penalty. |
Capturing
[
]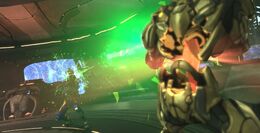 Research
[
]
Tactics
[
]
Notes
[
]
Trivia
[
]
Outsiders were first seen in the "Last Stand" Trailer, prior to the game's release.
Gallery
[
]