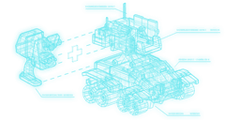 S.H.I.V. Repair is a Foundry project in XCOM: Enemy Unknown.
In-Game Description
[
]
Project Requirements
[
]
Prerequisites:  Arc Thrower (Research), EMP Cannon (Research)
Time to Complete:  7 days
Engineers:  10

Project Cost:
Research Credits and Bonuses:
Notes
[
]
It's not stated in the flavor text, but in XCOM: Enemy Within, MEC Troopers can be repaired as well; a single repair action will heal a MEC for 6 HP, exactly like a Medikit with the Improved Medikit Foundry project completed. On the other hand, it cannot stabilize critically wounded MECs.