XCOM 2 – Shen's Last Gift DLC Launch Trailer
Play Sound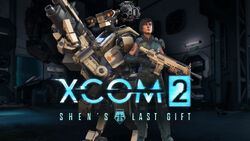 Shen's Last Gift is a DLC addition for XCOM 2. It was released June 30, 2016 through Steam for $9.99.
Description
[
]
Investigate ADVENT's "Lost Towers" facility where Chief Engineer Lily Shen accompanies your squad in search of her late father's secretive final project. Discover a unique new soldier class complete with powerful new combat abilities, strategy mechanics, and customization options.
Additions
[
]
A new narrative mission where XCOM infiltrates an abandoned ADVENT facility. Chief Lily Shen personally leads your most elite squad to uncover and assess what impact this new alien tech will have in the battle to reclaim Earth.
Gain access to a powerful new robotic soldier class: the SPARK.
Related Content
[
]
When integrated into War of the Chosen, SPARKs can be built at any time in the Proving Ground and do not need to be researched.