Game Developer's Conference (GDC) is the world's largest and longest-running gaming professionals industry event. The conference contains 400 lectures, panels, tutorials and round-table discussions on a comprehensive selection of game development topics taught by leading industry experts. GDC 2013 begins March 25th and lasts March 29th.
This year, XCOM: Enemy Unknown will featured in a panel discussing the game's AI. The session summary can be found below. We would like to ask, is there any elements or details of this session that you would be interested in getting more information about? How about any questions that you would like answered? Let us know in the comments: we will be attending this session, and can help gather the answers you seek!
AI Postmortems: XCOM Enemy Unknown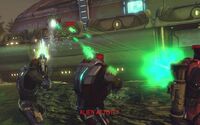 This session will provide a high-density look into the AI of three upcoming or recently released games. Unlike traditional industry postmortems, the session's presenters will dive immediately into the challenges faced, and how they addressed these challenges. Firaxis will describe their approach to the movement and ability usage for the various alien types in this year's hit turn-based tactical shooter, XCOM: Enemy Unknown.
Community content is available under
CC-BY-SA
unless otherwise noted.